Director: Agnès Varda
Country: France
This year's Toronto International Film Festival was particularly special for me, as I got the chance to see one of my favorite filmmakers and a legend of the French New Wave (a period in film history which I'm particularly crazy about): Agnès Varda. At 80 years old, she is still very active in filmmaking, having just presented her newest film,
Les Plages d'Agnes
, at the festival. For the event I attended, she presented her debut feature,
La Pointe courte
, which has been credited as one of the first films to ignite the filmmaking trend that would result in the French New Wave, and stuck around afterwards for an on-stage conversation with Canadian scholar and filmmaker Brenda Longfellow (
Our Marilyn
). The event took place at the AGO's Jackman Hall.
First the film itself, which Varda gave a short introduction for before sitting down to watch it with us.
La Pointe courte
, which takes place in the fishing community of the film's title, tells not one story, but two. The first involves an unnamed man and woman whose marriage is falling apart. As they stay in and explore the village, where the man grew up, they discuss their feelings for one another and what they should do regarding their relationship. The second narrative strand, which I found to be far more interesting, focuses on the various inhabitants of the village (who were virtually playing themselves). These segments have a very documentary-like feel to them, serving mainly to capture the essence of everyday life in the village. Among the assortment of "characters" who regularly appear throughout the film include a large family with several children, a daughter and her overprotective father and the man who is jailed for three days by the health inspectors who visit the village and examine its fishermen. The integration of these documentary segments with the staged storyline of the couple was particularly reminiscent of Jean Renoir's
The River
(1951), which similarly intercuts scenes from the Indian community on the banks of the Bengal River in which his film is set amid the coming-of-age story of three young women.
In this film (one of many cases that Varda would make for style over substance throughout her career), story is undeniably trumped by atmosphere and visual beauty. Varda's prior experience as a photographer is particularly strong throughout La pointe courte, and many of the film's shots have a still-life quality invested in them. For the village, Varda allows her camera to capture its character not only through the real-life fishermen and their families, but through the everyday objects and tools that are littered throughout the coastal town: laundry flapping on clotheslines, abandoned boats scattered along the shore, heaps of nets and rope, the many cats that silently prowl through the streets and buildings. Varda also allows herself some visually impressive shots within the couple's storyline, including, most memorably, some shots of the actors' faces in profile that seem to anticipate Ingmar Bergman's Persona: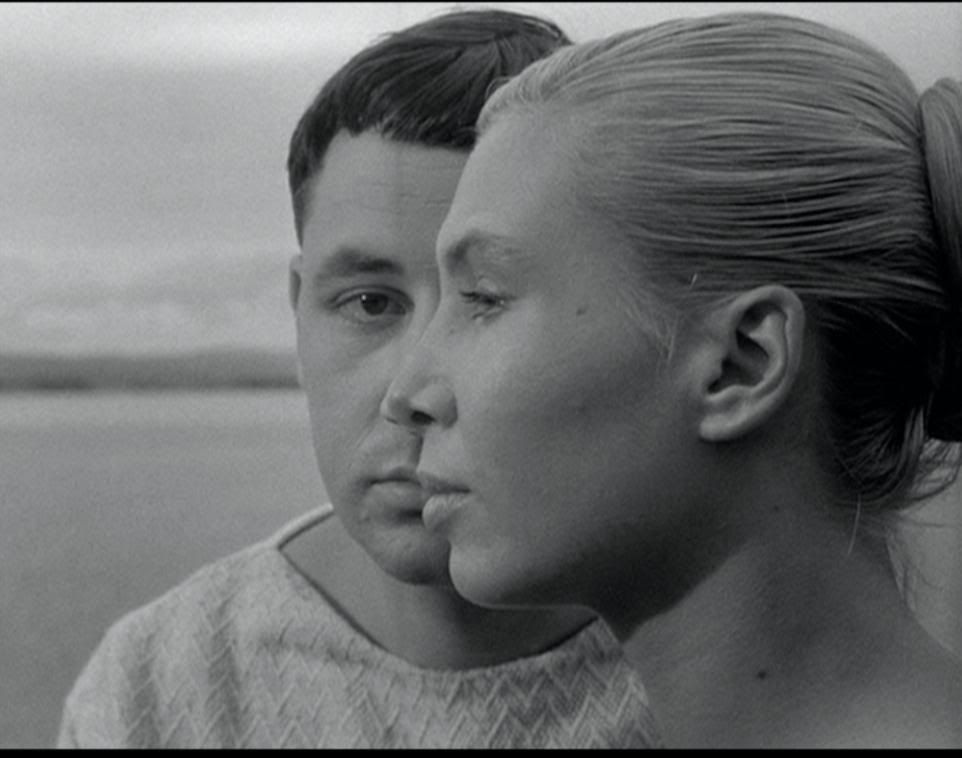 After the film, Varda and Brenda Longfellow were seated on stage and mainly discussed the film and Varda's experiences making it. Here are some of the points that were discussed:
-As she has often done in interviews surrounding her involvement in the New Wave, Varda insisted that she was virtually a newcomer to cinema when she made La Pointe courte. While she described the Cahiers crowd (including François Truffaut and Jean-Luc Godard) as young men who wore out the seats of their pants watching films at the Cinematheque, she had instead visited museums and read books throughout her youth and had not seen more than 20 films when she started making the film.
-Because of her inexperience in filmmaking, she came up with her own terminology when shooting La Pointe courte, coming up with names for shots such as "face shots" (instead of close-ups) and "Egyptian shots" (for wider shots that included more of the actors' bodies).

-Varda's editor for the film was none other than Alan Resnais, who would go on to make his own mark as a director with such films as Hiroshima, Mon Amour, Muriel and Last Year at Marienbad and taught Varda a great deal in their collaboration. For example, Varda had mainly shot what she envisioned the final film to look like - that is, each shot was taken from one particular angle that she had decided on. Resnais, upon viewing the footage in the editing room, advised her to allow herself a wider variety of shots to choose from for her films in the future.
-Though La Pointe courte strongly resembes Italian neorealist films such as De Sica's Bicycle Thieves and Visconti's The Earth Trembles, Varda claimed to have never heard of the Italian neorealists when Resnais pointed out her film's similarities to them, and when he recommended that she see some of their films at the Cinematheque, she had to ask him for directions there, as she also had no idea where it was located in Paris at that time.
-When someone asked her whether she preferred black-and-white or color, Varda basically replied that it would depend on the project. She described her use of color in such films as Le Bonheur as Impressionistic, and said that she would have only shot La Pointe courte in black-and-white (a logical statement to make, as many of the film's gorgeous images seem ideally suited for it).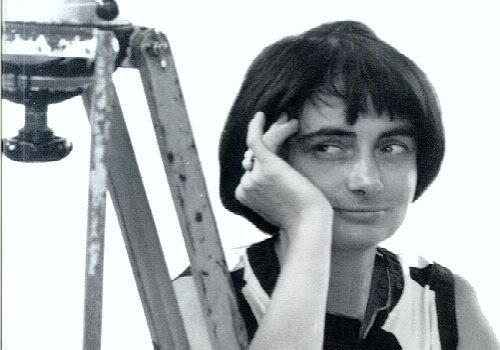 It was both an honor and a special treat to be able to attend this event and see one of my filmmaking heroes up close. It was nice to see that she had lots of spirit and a great sense of humor during the dialogue, and I hope she continues to enjoy many more years making films and expressing herself creatively. Vive Varda!